PrEP: The Once-A-Day Pill that Prevents HIV
When thinking about preventing the transmission of HIV, the most commonly known tools include condom usage and regular testing. In the past few years, however, a new tool has emerged: PrEP, which is short for Pre-Exposure Prophylaxis.
PrEP
PrEP (pre-exposure prophylaxis) is a pill that people who are HIV negative can take once –a-day, every day to reduce the risk of transmission of HIV. The Center for Disease Control states that studies have shown PrEP can reduce the risk of getting HIV from sex over 92% when taken daily. PrEP isn't solely for one type of person – many people of various genders and sexual orientations have found the medication to be an empowering and useful tool in their sexual health.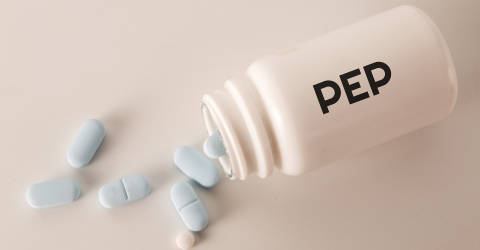 PEP
PEP (post-exposure prophylaxis) is a short course of pills people who are HIV negative can take after possible exposure to HIV. It means taking antiretroviral medicines (ART) after being potentially exposed to HIV to prevent becoming infected. PEP should be used only in emergency situations and must be started within 72 hours after a recent possible exposure to HIV. If you think you've recently been exposed to HIV during sex, through sharing needles, or if you've been sexually assaulted, talk to your local CHN representative or an emergency room doctor about PEP right away.
If you have experienced a non-occupational exposure to HIV, seek care as soon as possible. Local AIDS Service Organizations (ASOs), such as Colorado Health Network, can help you navigate the process and advocate for your needs. If time permits, you can visit or call an ASO prior to seeking medical help. ASOs can assist with screening for risk, helping with financial navigation, referring to appropriate health care providers and pharmacies, and providing follow-up assistance and after care.
If you choose to consult a doctor or visit the ER without the assistance of an ASO or advocate, medical providers may be hesitant to prescribe n-PEP. Hospital social workers can help you advocate for your care.
If you have experienced an occupational exposure, see a doctor or visit the ER immediately. Clinicians caring for health care workers who've had a possible exposure can call the PEPline (1-888-448-4911), which offers around-the-clock advice on managing occupational exposures to HIV, as well as hepatitis B and C.
For questions or concerns around PEP, including advice on how to access or pay for PEP, feel free to contact some of our expert staff members:
Auston Carlson, Linkage to Care/PrEP Coordinator Lead
auston.carlson@coloradohealthnetwork.org
970-260-9454
I want to learn more!
Here are some helpful websites to find out more information about PrEP and hear from different community voices:
You can also always call one of our offices to get in touch with a staff member who can help you access PEP
You can also contact these other providers on how to access PEP:
Boulder County AIDS Project
2118 14th Street, Boulder
Phone: 303.444.6121
Denver Public Health
605 Bannock Street, Denver
Phone: 303.602.8710